Icom IC-7610
HAMSHOP levert de Icom IC-7610 met Nederlandse handleiding!
De IC-7610 is een dubbele direct bemonsterende HF-ontvanger waardoor RMDR van 110dB wordt gehaald.
Dit concurreert met de allerbeste zendontvangers die verkrijgbaar zijn. Directe HF met geavanceerde RMDR en een échte dubbele ontvangerfunctie!

Enige specificaties
1 - Same size as the IC-7600
2 - Direct sampling SDR platform
3 - Large touch screen
4 - Greater capacity ADC, lower noise. Higher sample rate (Possibly longer bit string) [16-bit ADC]
5 - More powerful DSP [, faster TI TMS32C6XX series DSP IC]
6 - Built-in web-server for Internet remote, local wired or wifi connectivity. [Can also be RS-BA1 server]
7 - Dual-watch, with no signal degradation, and true cross band, cross mode capability [Dual demod may require 2 DSP chains]
8 - Lots of extra RAM space for future software expansion.
9 - 100watt out, full duty cycle any mode, 1hr rating, very low distortion HPA design [Easily done with new LDMS devices]
10 - Scope video with audio clip capture. [Feasible If sufficient memory provided]
11- 101 dB spectrum scope dynamic range & calibrated(S-units & dBm)
12 - Video output
13 - Transverter, USB and Ethernet connections

Zie hier een Youtube fimpje: https://youtu.be/iNn2gGGpxE4
RF Direct Sampling Takes You to the Next Level with Advanced RMDR and True Dual Receive
Whether it is poor band conditions, or battling to pick out a call in a large pile-up, faint signals have always been a challenge for DXers and Contesters around the world. The difference between putting the QSO in the log or having to try another time is the capability of your receiver. One key factor is the RMDR capabilities, the ability to pick out a faint signal in the presence of stronger, adjacent signals. The IC-7610 introduces dual RF direct sampling receivers, achieving 110dB RMDR, rivaling that of top-of-the-line transceivers.

Innovative RF Direct Sampling System
Introduced with the IC-7300, Icom's RF Direct Sampling System has made SDR performance affordable. Direct Sampling means incoming RF signals are digitized by the Analog-to-Digital Converter and immediately processed by the FPGA (Field-Programmable Gate Array). This process greatly reduces distortion that naturally occurs in the various mixer stages found in traditional superhetrodyne receivers.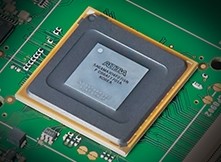 FPGA

Astonishing 110 dB*
RMDR The RF Direct Sampling System in the IC-7610 is capable of 110 dB RMDR. This performance gives you the ability to pull weak signals out of the noise of strong adjacent signals. There is a difference you can actually hear as the desired signal comes out of the pileup!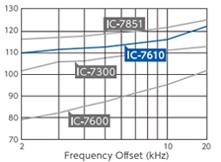 RMDR characteristics

* Representative value at 2 kHz frequency separation (Received frequency: 14.2 MHz, Mode: CW, IF BW: 500 Hz)

Customized VCXO Is Used for the Master Clock
Whether listening to both sides of a rare DX station running split, or looking for a multiplier on a different band or mode, the dual receivers in the IC-7610 have you covered. Two separate DIGI-SEL preselectors, two separate Band Pass Filter networks, feed two separate A/D converters into the FPGA.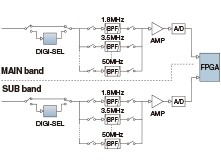 Dual receiver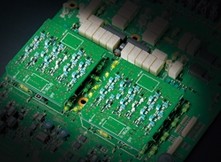 BPF units

DIGI-SEL for Main and Sub Bands
The DIGI-SEL preselectors are RF filters with sharp, narrow passband characteristics preventing Analog-to-Digital Converter overflow from large out-of-band signals when sampling the RF signals. Additionally the third and higher order IMD components are reduced. This is ideal when strong signals are received in a contest pile-up or from broadcast stations on adjacent frequencies or bands.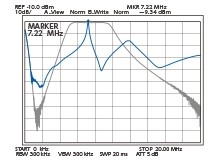 BPF and preselector passband characteristics receiving on 7.22 MHz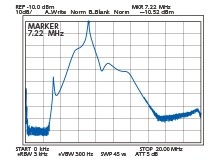 Passband characteristics between the antenna and the preselector (at the preselector output)

High Quality Speaker Sound
To finish out the receiver, is an internal speaker cabinet. The cabinet is tuned to reproduce clear, natural sounding audio, and is insulated from the radio chassis to prevent noise from vibration and panel resonance.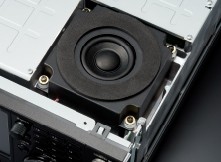 Speaker unit

Digital-Up-Conversion (DUC) for Clean TX
Breaking with the tradition of mixing a carrier signal with a local oscillator, a Digital-Up-Conversion (DUC) method is used to generate the required signal from the Digital-to-Analog Converter. The chart to the right shows the difference made by this new design.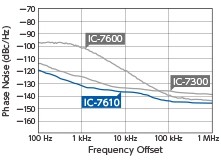 Transmit phase noise characteristics

Built-in Automatic Antenna Tuner
The built-in automatic antenna tuner memorizes its settings based on your transmit frequency, so that it can recall the tuning setting when you switch operating bands. The emergency tuner function* enables you to operate for short periods of time with an antenna with a high SWR. * Output power not guaranteed and power may be reduced.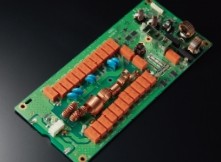 Antenna tuner unit

7-inch Color Display with Touch Screen Function
The large 7-inch color display shows various operating and setting information at a glance in high resolution (800 × 480 pixels.) The display clearly shows various features, for example the dual spectrum scope aligned vertically or horizontally, simulated analog meters and RTTY, PSK31/63 mode decoded messages.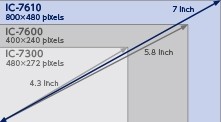 LCD comparison

Dual Receivers, Dual Spectrum Scopes
The IC-7610 provides dual reception, on different bands, as does the high-speed, high-resolution spectrum scopes. Whether watching for a band opening, working a rare DX station operating split, or searching for a multiplier, the ability to watch each receiver separately allows the operator to concentrate on pulling in a weak signal. The scopes provide class-leading performance in resolution, sweep speed and a 100 dB dynamic range. To navigate around the band easier, connect a PC mouse to the USB port for point and click tuning of the receivers.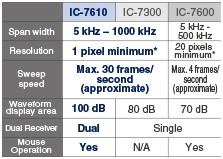 * Number of pixels shown at the 60 dB level, when receiving a signal.

Audio Scope Flexibility
The Audio Scope screen shows both a FFT scope with waterfall along with an oscilloscope for both transmit and receive audio. This makes it easy to monitor AF characteristics such as microphone compressor level, filter width, notch filter, and in CW, you can monitor received CW keying wave forms.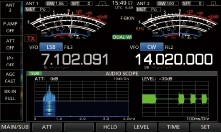 Audio scope example

Touch Screen and Multi-Dial Knob for Smooth Operation
The combination of the touch screen and the multi-dial knob offers quick and smooth operation. When you push the multi-dial knob, menu items are shown on the right side of the display. You can select an item by touching the screen and can adjust the levels by turning the multi-dial knob.




Remote Encoder for Second VFO Knob
The optional RC-28 remote encoder enables you to add an external Sub dial for controlling the Sub band. Main band and Sub band can be switched with the F1 and F2 buttons and can be controlled with the RC-28. The LED above the F1 and F2 buttons turns ON to show the active band.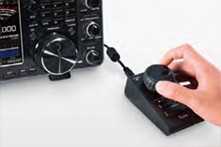 DVI-D Connector for an External Display Connection
The IC-7610 has a DVI-D connector for an external display. Operating frequency, setting information and spectrum scope can be observed on a large external display.

SD Card Slot and USB Port for Saving Data
When used with an SD card or USB flash drive, various contents including firmware updates, memory channels, captured screen images, and other personal settings, can be saved and loaded. TX/RX audio, voice memories, RTTY/CW memories and RTTY decode logs can be saved and used on the SD card.

I/Q Signal Output
The IC-7610 enables you to output I/Q signals from the USB connector. They can be used to analyze a spectrum range or to decode signals by a decoder software on a PC. *This function will be provided in a future firmware update. Simplified Remote Control for RS-BA1

Whether from a remote part of your home QTH, or on a remote location somewhere around the world, the RS-BA1 software enables you to operate your IC-7610. Not only can you control the radio settings and have both RX/TX audio paths, you are able to display a single band spectrum scope with the waterfall. With the addition of an Ethernet connector, a base station computer is not required.

Other Outstanding Features

RX antenna
•BNC type RX IN/OUT connectors for a receiver antenna or external BPF/preamp connection

CW mode
• FPGA-controlled CW keying waveform shaping
• Multi-function electronic keyer
• CW pitch control from 300 Hz to 900 Hz
• Auto repeat function •Contest serial number counter
• Normal or short Morse number style
• Double key jack system
• Full break-in and semi break-in
• CW auto tuning
• APF (Audio Peak Filter) function adjustable filter shape, width and AF level

Receiver
• 30 kHz to 60 MHz receiver (Some frequencies are not guaranteed.)
• Two types of preamplifiers Preamp 1: Improves intermodulation characteristics Preamp 2: High gain preamplifier
• 3 dB – 45 dB variable attenuator
• IP+ function improves 3rd order intercept point performance
• 101 memory channels
• RTTY encoder and decoder
• Twin peak audio filter for the RTTY mode
• Adjustable AGC time constant from 0.1 to 6 seconds
• Digital twin PBT eliminates interference from adjacent signals
• Main/Sub band tracking function for diversity reception

Transmitter
• TX monitor function
• All mode power control
• VOX (Voice Operated transmission) capability
• BNC type transverter connector •Microphone equalizer and adjustable transmit bandwidth •50 CTCSS tones

Operation
• Memo pad stores up to 10 operating frequencies and modes
• Quick split function
• Quick Dualwatch function
• RF gain and squelch control with a knob
• RIT and ΔTX variable up to 9.999 kHz
• UTC/local clock and timer function
• 1 Hz pitch tuning and display
• Dial lock function
• Adjustable main dial brake
• External speaker jacks for Main and Sub receivers
• Screen saver function •Multi-function meter (S-meter, Power, ALC, COMP, SWR, ID, VD and TEMP)
• Auto tuning step function

Rear Panel View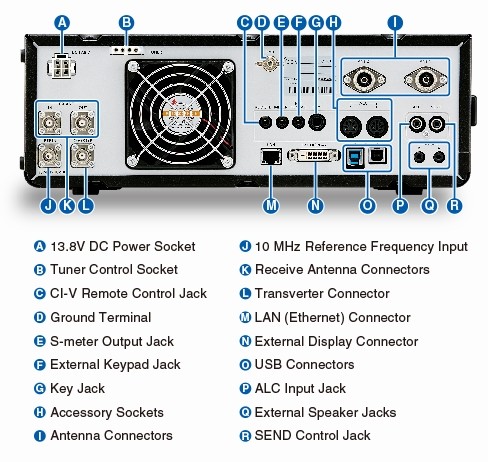 Supplied accessories (May differ depending on version)
• Hand microphone, HM-219
• DC power cable
• Fuses
• Plugs
Frequency coverage (EUR version):
RX: 0.030–60.00 MHz*2
TX: 0.1357–0.1378, 1.810–1.999, 3.500–3.800, 7.000–7.200, 10.100–10.150, 14.000–14.350, 18.068–18.168, 21.000–21.450, 24.890–24.990, 28.000–29.700, 50.000–52.000 MHz

Mode USB, LSB, CW, RTTY, PSK31/63, AM, FM

Number of channels 101 (99 regular, 2 scan edges)

Antenna connectors SO-239 × 2 (50Ω unbalanced (Tuner off)) BNC × 1 (RX antenna In/Out)

Power supply requirement 13.8V DC ±15%

Power consumption
Tx 23 A (at 100 W output power)
Rx 3.0 A (Standby), 3.5 A (Maximum audio)

Operating temperature range 0°C to +50°C; 32°F to 122°F

Frequency stability Less than ±0.5ppm (0°C to +50°C; 32°F to 122°F)

Frequency resolution 1 Hz (fine)

Dimensions (W×H×D) (projections not included) 340×118×277 mm; 13.4×4.6×10.9 in

Weight (approximately) 8.5 kg; 18.7 lb
Klantenreviews
IC 7610


Review door

Henk PD0LLV

Ik heb de transceiver een paar dagen in bezit en ben er erg tevreden mee, de ontvanger is subliem en ook de audio is een genot om naar te luisteren.
Ik heb samen met een collega een 7610 bij Marcus gekocht we hadden allebei wat om in te ruilen, nou ik moet zeggen dat was geen probleem bij Marcus prima deal gedaan, dus bedankt Marcus en tot de volgende keer.
Ik raad iedereen aan om eens bij de Hamshop langs te gaan !!

IC-7600


Review door

Albert

Heerlijke tranciever met twee echte ontvangers! Ruisarm en heerlijk rustig luisteren! Ook de service met een heerlijk bakkie was weer top!

First impressions of my new IC-7610 SDR transceiver


Review door

Thomas OE1TRB

I got my brand new IC-7610 from hamshop in February 2018, Marcus sent it as fast as possible , perfect support all the time.

The radio has a nice size compared to my current radios like IC-9100 and 7800.
Very nice display, and usage of the radio - very similar to IC-7300 but with near functions to IC-7851. RX is brilliant, TX as well. Sound is better to use an external speaker where I miss volume with the internal speaker.
I the usage I miss the 2nd VFO knob for the 2nd Receiver which is with a bit different but hope that Icom put this as enhancement in an Firmware update.
The antenna tuner has not the wide range as the old transceivers where to use sometimes the emergency mode to get a tuned Antenne in case of need.
USB is a bit tricky to setup , but a nice info in youtub helped a lot to connect to get the HRD ready to run.

All in all a great performer , well done from Icom to introduce a SDR radio into the technic hungry HAM community.

Vy 73 de Thomas OE1TRB


Icom 7610


Review door

Evert van Walsum (PD3EEF)

een zeer goede set SDRset met 2 ontvangers uitermate tevreden ,HF is weer een plezier .....
Bovendien Margriet en marcus zijn uitermate lief en aardig tegen me en bestellen gewoon de sooi , hoef er geeneens om te vragen , erg goed aankomend Icom 9700 SDR ....
gr EEF

IC-7610


Review door

Paul - ON2PCO

Een geweldige transceiver met een verbazingwekkend rustige ontvanger, een geweldig schoon TX-signaal én nog zoveel meer technisch vernuft aan boord, maken dat het werken met deze IC-7610 een genot is ! Ik was al heel tevreden met de IC-7600 - zijn 'analoge' voorganger - maar de IC-7610 maakt het bedrijven van mijn radiohobby nog boeiender en leuker. De aanwezige functionaliteit is subliem voor degene die op een andere en vooral leukere manier de banden wil 'afstruinen' en monitoren, maar ook is de IC-7610 een meer dan uitstekend hulpmiddel om bijvoorbeeld effectiever deel te nemen aan contesten enz. Aldus van harte aanbevolen !