Digital 4K UHD V2
Multiple Views Topographical, Geopolitical, Ham Radio, and Low Res with 100's of Human and Natural data-points.

Enhanced Stability
As of 05/2019, our Version 2 software is far faster with rock-solid video signal stability in a high resolution 4k environment.

Dynamic Overlays
Earth Lights at night, major transportation routes, pollution and population.

Satellite Weather
Watch precipitation, wind speed, temperature, cloud cover, and barometric pressure move across the Earth in real time.

Track Satellites, Hubble, and the ISS
With Internet, track the real time location and trailing vectors of 100s of satellites in orbit.

Easy Setup
Plug in the HDMI cable, grab the remote, and turn it on. Internet enables more features.

A Worldview in 4k with Satellite Weather
The Geochron Digital 4k UHD gives viewers beautiful displays of the Earth with the sunrise-sunset rendered in real-time through a small computer that plugs directly in to your TV via HDMI. The size of your display is only limited by the size of your TV, as you take in the terrestrial movement of the Earth's orbit in sync with the Sun.

The Geochron Digital 4k UHD displays a full-featured Geochron World Clock on any 4k TV, with every mapset and lighting option available in our famous mechanical clock but at a fraction of the cost. Now in the digital format, users can customize markers on the map, and receive (with internet) real time updates.

Global Satellite Weather overlays, including*
- Precipitation
- Wind Speed
- Barometric Pressure
- Temperature ◦Cloud Cover
Lifetime updates for five mapsets
- Geopolitical with Human Points of Interest
- Geopolitical with Oceanic Points of Interest
- Topographical "A view from space."
- Ham / Amateur Radio mapset
- Low Resolution (1080) Geopolitical mapset

Live location of the International Space Station and over 100 satellites, updated every 15 seconds.*
High Speed demonstration mode. One year in 15 seconds!
Layer Demonstration mode. Automatically cycle through layers, so your display never looks the same.
Sixteen Locations Pins with custom text names and local time that you can place anywhere on the map.

Static Overlays, showing:
- Earth at Night
- Major shipping routes
- Major flight routes
- Carbon Monoxide Pollution
- Human Population

Digital Time Accuracy to within 500 milliseconds*, and on-the-fly time adjustments to local time zones.
Automatic Night Dimming by your location.*
An extensive Help menu with embedded video tutorials explaining every feature of the Geochron Digital Version 2.
* with internet connection
Easy Setup
Although the algorithms behind the dynamic display are complex, the Geochron Digital 4k UHD is ready to go out of the box. It's easy to set up and use with the provided remote control, and – with an internet connection – includes time and date configuration, firmware updates, and map updates.

Included:
- 3′ Power Supply 110-220v USA Plug
- 6′ HDMI Cable, male to male
- Remote Control and AAA batteries
- Printed Documentation
- One Year Warranty
- New Updates as available with Internet
- Full Geochron Digital v2.0 Specifications

Not Included:
- 4K TV
- Internet connectivity
- Shipping

Requirements
- Internet is necessary for real-time layers
- 110 to 220v power
- 4k Display screen recommended, larger than 28 inches
- Default USA Plug

Not every one has up to $4,000 for the beautiful mechanical Geochrons made since 1964. Many Geochron enthusiasts have waited for years for an affordable option in the digital world, and this is it: everything the mechanical Geochron can do, plus customizable settings, multiple maps, live updates, and as big as you want.

Layers over the mapset interact with a dynamic world We are constantly adding new layers over the beautiful mapsets Geochron is known for. Layer and map updates are free for all Geochron Digital 4k's, but require an internet connection to download to the computer on command.



Live weather overlays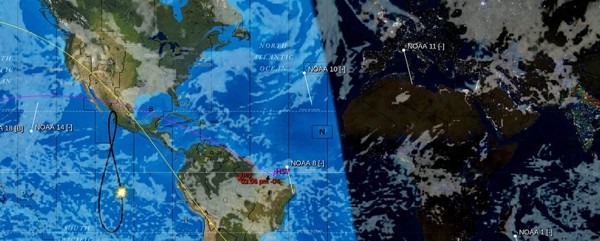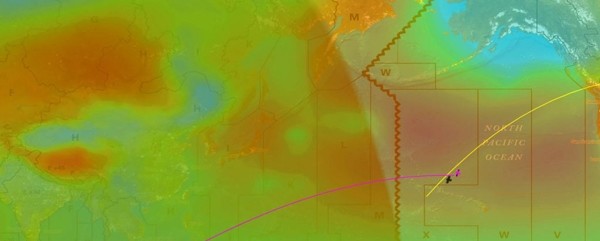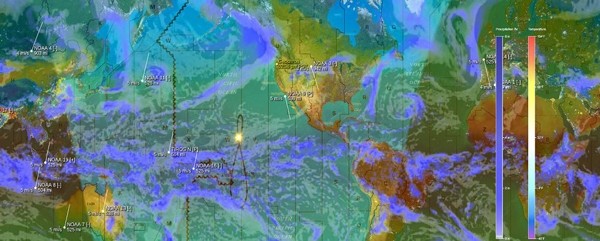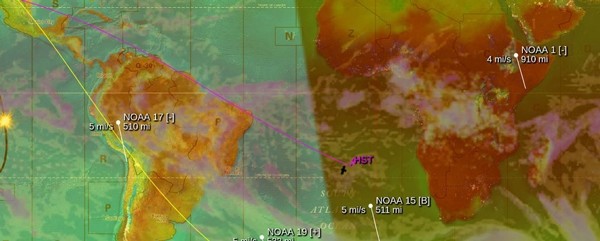 Population heat map overlay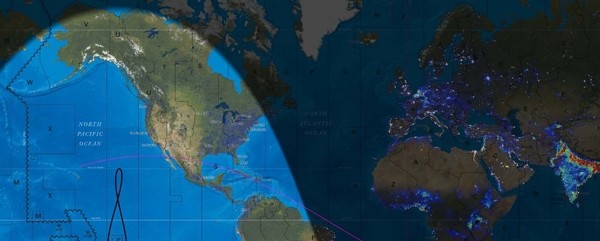 Satellite tracking and trailing vectors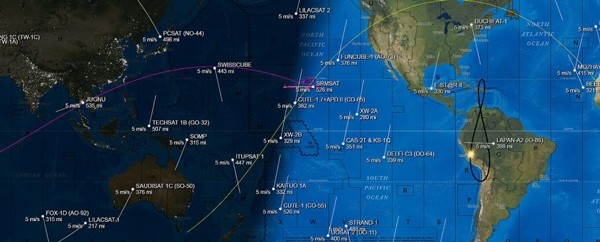 Local Time shown at Location Pins




Carbon Monoxide Pollution over Human Geopolitical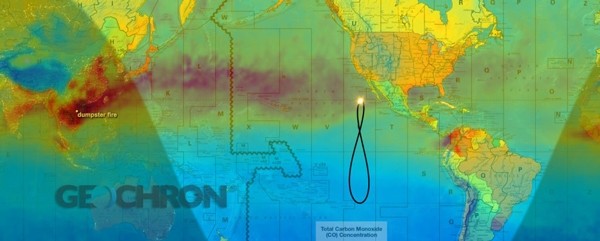 Digital 4K UHD V2
Multiple Views Topographical, Geopolitical, Ham Radio, and Low Res with 100's of Human and Natural data-points.

Enhanced Stability
As of 05/2019, our Version 2 software is far faster with rock-solid video signal stability in a high resolution 4k environment.

Dynamic Overlays
Earth Lights at night, major transportation routes, pollution and population.

Satellite Weather
Watch precipitation, wind speed, temperature, cloud cover, and barometric pressure move across the Earth in real time.

Track Satellites, Hubble, and the ISS
With Internet, track the real time location and trailing vectors of 100s of satellites in orbit.

Easy Setup
Plug in the HDMI cable, grab the remote, and turn it on. Internet enables more features.

Lifetime updates for five mapsets
- Geopolitical with Human Points of Interest
- Geopolitical with Oceanic Points of Interest
- Topographical "A view from space."
- Ham / Amateur Radio mapset
- Low Resolution (1080) Geopolitical mapset

Klantenreviews
Veel mooier dan de mechanische Geochron


Review door

ON9CC

Ik heb een tijdje een mechanische Geochron (Kilburg) gehad. Maar die hoorde je toch altijd lopen en als je hem helemaal uittrok, moest je hem naderhand met veel pijn en moeite de datum/tijd weer instellen. Dus toen de 4K versie uitkwam stond die op de verlanglijst en heb hem een week of 2 geleden bij Hamshop gekocht. Zeker voor low-banders een heel erg mooie tool voor de shackmuur :) De beschikbare layers zijn goed bruikbaar en configureerbaar. Wellicht zou een aantal presets wel mooi zijn, wat met dit soort upgradable software geen punt zou moeten zijn.

Geochron


Review door

NL11673

Geochron heeft met de 4k versie 2 een zeer mooie klok op de markt gezet. Amateur satellieten, weersatellieten, space station, luchtvervuiling is naar eigen voorkeur in te stellen. Alle data is live via internet. Op een 4K scherm is alles zeer scherp. Echt een mooie aanwinst voor iedere radio shack.