Yaesu G-2800DXC - Inclusief connectorset!

Recommended Application
Top of the Line, Low Profile, High Torque.
Planetary Gears improve braking for large
arrays; heavy-duty applications.
Recommended for IN-TOWER mounting.
Wind Load
3m²
K-Factor (Turning Radius x Weight of Ae)
950
Stationary Torque
25,000 kg/cm
Rotation Torque
2,500 to 800 kg/cm
Max Vertical Load
300 kg
Max Vertical Intermittend Load
1,200 kg
Backlash
0.2º
Mast Size
48 to 63 Φ
360º Rotation Time
45 to 120 sec
180º Elevation Time
N/A
Boom Diametre
N/A
Rotator Diametre x Height
200 Φ x 345
Weight
6.5 kg
Cable Requirement (# wires)
6
Compass Display
Stop may be set at North of South.
Preset Control
For hands-free rotation during busy operating sessions.
Variable Speed
50 - 120 seconds for 360º rotation.
Planetary Gear System
For improved braking and precision when using large arrays.
Motor
Variable-Voltage DC Motor
Mounting
Designed for mounting INSIDE a support tower, at least 1m from the top.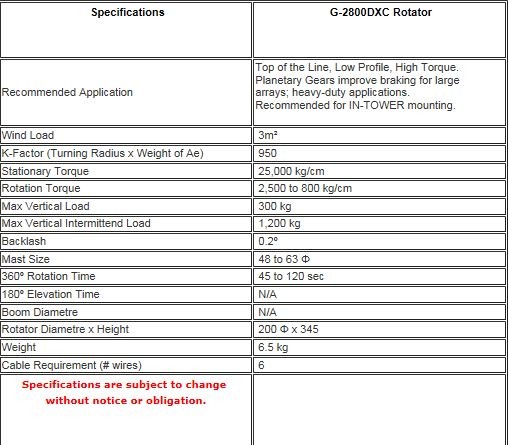 Klantenreviews
snelle en correcte service


Review door

karel on2kp (pd2bnh)

marcus

bedankt weer eens had er zelf genoeg maar helaas geen 1 die in de mast past maar dit werkt ook voor de 100% draait nu alweer ruim een jaar een 3 el 40 mtr en 17 mtr beam op 22/27 mtr topi

mvg Karel on2kp (pd2bnh) Baarle-Hertog

Perfecte service


Review door

Theo PA1CW

Nadat mijn rotor de Yaesu 1000 het had begeven heeft Marcus mij uitstekend geholpen met de aanschaf van deze 2800.
Deze rotor draait alweer een paar jaar met grote tevredenheid, beter te laat dan nooit met een review

Snelle service


Review door

Peter ON1ATV

Marcus, Hartelijke dank voor de snelle service van de Yaesu G-2800DXC Super rotor die ik draai met de 17 element van Optibeam zonder enig probleem, en er komt nog een 2 element boven voor 40m van Optibeam. Ik heb al op vele forums gelezen dat Yaesu plastiek tandwielen gebruikt? zeker niet in de G-2800 DXC , 5 stalen tandwielen boven elkaar! Ik gebruikte daarvoor een Create RC5-A3 die in stukken van elkaar is gegaan. Ik ken mensen die sinds meer dan 15j de G-1000 gebruiken van Yaesu zelfs iemand met een 3 element 40m van Hygain ( ON4BAL) en nog nooit problemen gehad.